OLÁ AMORES. Pulamos muito carnaval mas voltamos com as nossas referências de sempre. Dessa vez nosso episódio veio de uma galáxia muito, muito distante e direto pros nossos corações ❤
SIM, falamos de Star Wars, essa saga que consideramos pacas e que é um dos maiores produtos da cultura pop/nerd (e só por isso já é importante). Mas dada a evolução das personagens femininas nos novos filmes da saga (e a reação que isso causa), fica impossível não falar, né? Ouve aí, amores:
(Ah, esse episódio é dedicado à memória de Carrie Fisher ❤)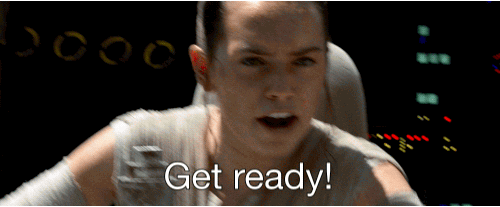 Também no iTunes (!!): http://apple.co/2kfQXdl
Ah, e a gente fez uma playlist PRA LUTAR CONTRA O IMPÉRIO [DO PATRIARCADO] enquanto vc lê esse post:
•  Por que é importante uma protagonista mulher em "Star Wars"? | BitchPopBlog http://bit.ly/2lDYaVh
• Star Wars Day: Uma homenagem às mulheres da saga | Valkirias http://bit.ly/2lYA9dU

• Tumblr "Women of Star Wars" | http://womenofstarwars.tumblr.com/
• The Women of 'Star Wars.' (It's Not Who You Think.) | New York Times http://nyti.ms/2lxHJJ3
•  Jyn Erso Is Another Worthy Star Wars Heroine. But Where Are the Rest of the Women in Rogue One? | Slate http://slate.me/2mKcHiT
• Carrie Fisher Opens Up About 'Star Wars,' The Gold Bikini And Her On-Set Affair | NPR http://n.pr/2inQyVq
• Carrie Fisher's complicated relationship with her iconic Princess Leia gold bikini | Telegraph http://bit.ly/2lYLeMb
• The 'slave Leia' controversy is about more than objectification | The Guardian http://bit.ly/2mxxsS2
• On Star Wars And Why Representation Matters | On Wednesdays http://bit.ly/1Uavj87
• No Leia Haters: Why Retiring the Slave Bikini From 'Star Wars' is Excellent News | Commics Alliance http://bit.ly/1S4gd0m
• The Force re-aligns: How the role of women in Star Wars has evolved | FirstPost http://bit.ly/1muQkwR
• Why Rey from The Force Awakens Makes Me Cry | the Mary Sue http://bit.ly/2mPOFm3
• No, Rey From 'Star Wars: The Force Awakens' Is Not A Mary Sue | Forbes http://bit.ly/2mxqs7Q
• Spoiler-free 'Star Wars: The Force Awakens' review: The Force is strong with this one | Hypable http://bit.ly/2m0rkyA
• 4 Reasons Why 'Star Wars: The Force Awakens' Matters Beyond Its Entertainment Value | Movie Pilot http://bit.ly/2lxv1tT
• Star Wars: How Rey Brings Balance to the Franchise | ScreenRant http://bit.ly/1Yx9U7M
---
#PDPRECOMENDA
Seguem aí nossas dicas pra vocês conhecerem coisas incríveis desse mundão, preferencialmente cultura pop feminista e/ou feita por e para mulheres:
Marina Burini: Última temporada de Girls voltou \o/
E estou 100% viciada em vocais isolados. Então vem aqui ouvir o da Gaga no SuperBowl e aqui o da Beyoncé no Grammy
Nana Soares: Comecei a assistir Jane The Virgin e recomendo! É a novela mexicana em Hollywood, gente!
E aqui tem um vídeo maravilhoso dos nossos migos do It Pop discutindo o racismo estrutural no Grammy.
Teca Perosa: Esse vídeo maravilhoso da Glamour UK sobre o ciclo menstrual. BORA APRENDER SOBRE NOSSOS CORPITCHOS MARAVILHOSOS
---
Faltou algum link? Sabe de mais textos e referências e quer compartilhar? Como estamos dirigindo? Sugestão de tema?
Fala com gente:
Facebook: facebook.com/popdontpreach
Twitter: @PopDontPreach
É isso, beijos de luz!
@maburini, @soaresnana e @tecaperosa